Lassen Under the Sea Personal Checks
from Bradford Exchange Checks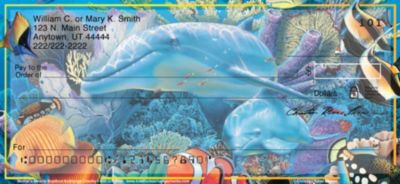 Save 50% off Bank Check Prices
Enter offer code 15191XUH to Receive Your Savings!


Christian Riese Lassen Checks Let You Explore the Wonders of the Sea - Explore the beautiful depths of the open ocean every day with these Lassen Under the Sea personal check designs from Bradford Exchange Checks(R)! Four vibrant designs feature acclaimed artist Christian Riese Lassen's aquatic visions of dolphins, orca whales and other underwater creatures in full color, making these sea life and dolphin art checks a stunning tribute to the thriving world below the surface.Plus, you'll find these dolphin art personal checks are just as practical as they are striking. Brought to you exclusively by Bradford Exchange Checks, they're expertly re-created with premium-quality check printing. Don't wait to bring the glory of the deep to the surface - get your Lassen Under the Sea checks as soon as possible! Order now! Lassen Under the Sea Personal Checks are available in single and duplicate check formats. Matching labels and checkbook cover are available.